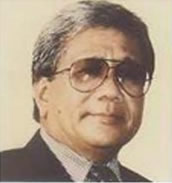 Kuniwo Nakamura
The Chairman of the Board and Chief Executive Officer (Chairman & CEO)
From the grassroots in his home state of Peleliu Island, born of a Japanese father and a Palauan mother, completed High School in Tumon, Guam, and graduated B.A. in Economics and Business Administration from the University of Hawaii, Hawaii, USA.
A public servant for more than 36 years and a two-term elected President of the Republic of Palau, with renowned excellence in public service, an institution, a visionary, a loving family man, an inspiration, a mentor, and now a businessman, one of the five seated Chief in Peleliu State, with Chief Title Obaklechol Kuniwo Nakamura, the Chairman & CEO of BT&TCo Group and other affiliated companies.
Greetings from the Chairman & CEO
Alii! Welcome and thank you for viewing our website!
Indeed it's a fulfilling joy to continue doing business with all of you.
Our greatest achievement is to serve your businesses, and as we flourish our business cooperation with all of you, we look forward for a more prosperous business climate in Palau and in the region. God Speed!
 – Kuniwo Nakamura
Board of Directors
Board of Directors: Made up of 7 members, all Palauan citizens.